e.TWINNING

e.Twinning est une action conçue par la Commission Européenne, inscrite dans le cadre du programme Education formation tout au long de la vie (Coménius)
Les séminaires de contact eTwinning ont pour objectif de permettre à des enseignants de toute l'Europe de se rencontrer pendant plusieurs jours afin de nouer des contacts avec des partenaires européens dans le but de développer des partenariats scolaires exploitant les ressources de la plateforme collaborative eTwinning. eTwinning est un dispositif européen porté pour la France par le Ministère de l'Education nationale et dont le CNDP est l'opérateur. 
Carine JOUNEAU VAILLANT  Assistante administrative et financière  eTwinning - DDI  carine.jouneau-vaillant@reseau-canope.fr  T. 05 49 49 78 63 /  Téléport 1 Bât. @4
 BP 80158 / 86961 Futuroscope cedex 
Multilateral Seminar, Limoges 16-18, 2014
Séminaire multilatéral à Limoges du 16 au 18 mai 2014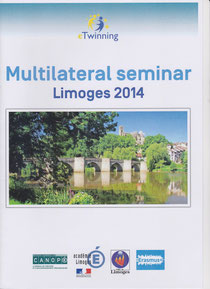 Speakers / Intervenants
Martine LINOL, English Pedagogical Inspector (IA-IPR)      
François COUTAREL, Regional e.Twinning Representative (CANOPE)
Animatrice / National Support Service (FR)
Elisabeth Sauser-Monnig

Contains / Contenu
Day 1 - Opening, Seminar goals, e.Twinning and Project-Based Pedagogy.
Day 2 - Project Ideas and Keys for developing Your e.Twinning Project, Workshop : Project Planning with Partners, e.Twinning Desktop and Using the Twinspace in a project.
Day 3 - Workshop : Project Planning with Partners, Project Presentations, Closing.
CANOPE Technician Christophe Rhein

Ambassadress / Ambassadrice e.Twinning Carole Germain-Gaubert

Professeurs invités / Delegates from France (19), Sweden (2), Spain (11), Slovakia (2), Iceland (2), Finland (3), Belgium (1)
E.Twinnning project created between Belgium and France during the seminar :

E.TWINNING EUROPEAN CLASSROOM - ETEC
An European classroom shared by pupils of French High Schools and The Saint Ghislain Royal Athénée (Belgique) /  Une classe européenne en lycée général et professionnel jumelée avec l'Athénée Royal de Saint Ghislain (Belgique)